Access Control
Home » Systems » Access Control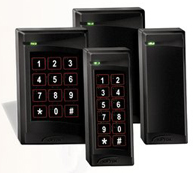 Maxsys allows you to simply and affordably integrate access control with an intrusion alarm system or a fire alarm system. This integration of burglary and access control provides for some powerful benefits. For example, arming and disarming the security system via access control greatly simplifies end-user operation. Access control systems are a perfect addition for small- to medium-sized commercial applications.
Two-door reader modules can be added as needed to control up to 32 readers. Maxsys is a total security solution that integrates all aspects of building security - burglary, fire, access control and automation - into a single product, all of which can be used in any combination, at any time. This integration is achieved through the use of advanced microprocessors, extensive software and a unique COMBUS that provides high-speed data exchange between the main control panel and installed modules.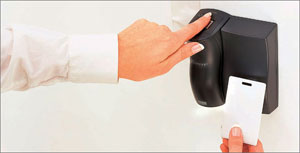 Biometric Readers
The V-Flex 4G contains superior biometic capabilites for deployment flexability and delivers cost savings. A variety of models are available a wide range of deployment scenarios, from small template requirements to scaling up to address 100,000 templates or unlimited users with smart cards.
Access Accessories
---
4G PIV•TWIC
Meet Specialized Outdoor Requirements with a Solution Purpose Built for PIV and TWIC.
---
Contact an ACE representative today for a free, no hassle analysis of your security needs.