Closed Circuit Television
Home » Systems » Closed Circuit Television
Security cameras aren't just for theft; viewing and documenting work place activities have become very important. Our customer's tell us that their cameras help them in all the following areas: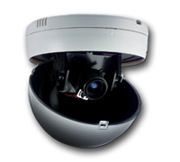 Worker's compensation claims
Insurance claims
Office theft
Harassment claims
Property damage
Process & productivity observation
False alarm verification
The quality of the picture is where everything comes together in a camera system. Can you identify the desired subject matter from each camera's picture? Quality means that you have a clear picture with proper lighting and contrast. There is no washout, blackout, or degradation regardless of the time of day or other environmental factors. You want images that are useful for your purposes, whether that means they need to stand up in court, or just give you more information.
Live Video Streaming Over the Internet
The capability to view your cameras over the Internet or corporate network has become an ever-increasing need in today's world. Our staff is experienced with this cutting-edge technology and works in conjunction with your IT personnel to create a seamless system for your remote viewing requirements. Imagine the ability to view your system from anywhere that you can access the Internet. Let our experts show you how to achieve an economical solution to this futuristic technology.

We here at ACE Security Systems have put together a 4 camera package design to work in nearly any enviorment. This package includes 4 security cameras, 1 DVR with a 160 gigabyte sata hard drive, 1 17 inch LCD security monitor, 500 feet of cable, 4-camera 12V 2.5amp power supply and 8 man hours install the system.
CCTV Accessories
---
HTZ-3600WBH PTZ Camera
Day/Night Pan-Tilt-Zoom camera with 36x optical zoom 12x digial with IR filter.
HTC-66EL/65GWD Camera
Wide dynamic camera. 540TVL.
79G & 76N IR Cameras
Built-in IR, Water Resistance IP 68, Auto White Balance, 2H mode of H.V. aperture correction, IR Distance Up to 10 meter.
T16G36 Ultra Low Light Dome Camera
Hi-Res 600 TVL, Ultra Low Light 0.001 Lux, TRUE Day and Night Operation.
HD-80H28D 1080P Outdoor camera
1/3" Progressive Scan CMOS Sensor 1080P High-definition Outdoor camera, and a 2.8-12MM lens, with 48 IR LEDs
T16G36DID IR Dome Camera
1/3" Sony Super HAD CCD Color DSP, Hi-Res 600 TVL
HVRM-T DVR
Up to 32 Channels and a max hard drive size of 4TB.
DVR & Speed Dome Controller
Remotely control PTZ cameras.
HCR High Definition Video Recorder
H.264 HD Digital Video Recorder, 240fps @ 720P or 120fps @ 1080P, DVD-RW, USB back up, 4 Channel-Audio input, iPhone/Blackberry/Android app.
HCR DVR
Linux based OS with up to a 4.5TB hard drive and up to 16 channels.
---
Contact an ACE representative today for a free, no hassle survey of your closed circuit television security needs.